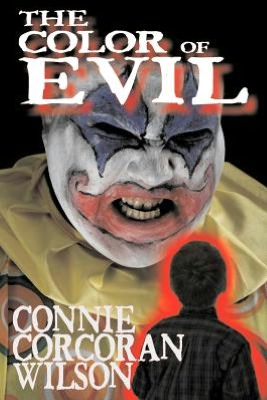 [Quad Cities' Press (January 11, 2012)
(ASIN: B006WNOZ5U, 254pp, $2.99)
Book Description
Publication Date: January 11, 2012
Tad McGreevy has a power that he has never revealed, not even to his life-long best friend, Stevie Scranton. When Tad looks at others, he sees colors. These auras tell Tad whether a person is good or evil. At night, Tad dreams about the evil-doers, reliving their crimes in horrifyingly vivid detail.
But Tad doesn't know if the evil acts he witnesses in his nightmares are happening now, are already over, or are going to occur in the future. He has no control over the horrifying visions. He has been told (by his parents) never to speak of his power. All Tad knows is that he wants to protect those he loves. And he wants the bad dreams to stop.

At Tad's eighth birthday party (April 1, 1995) in Cedar Falls, Iowa, the clown his parents hire to entertain Tad's third-grade classmates is one of the bad people. Pogo, the Killer Clown (aka Michael Clay) is a serial killer. So begins 53 nights of terror as Tad relives Pogo's crime, awakens screaming, and recites the terrifying details to his disbelieving family. The situation becomes so dire that Tad is hospitalized in a private institution under the care of a psychiatrist--who also does not believe the small boy's stories.

And then the police arrest Pogo, the Killer Clown.

Flash forward to the beginning of Tad's junior year in high school, 8 years later. Tad is 16 and recovered from the spring of his third-grade year. When Michael Clay was caught and imprisoned, the crime spree ended and so did Tad's bad dreams.

Until now, in the year of our Lord 2003, when evil once again stalks the land.

This is a terrifying, intense story of the dark people and places that lurk just beneath the surface of seemingly normal small-town America. As one reviewer says, "Wilson nails the darkness beneath the surface of small-town Midwestern life with an intense story based on fact."
Tad must wage a silent war against those who would harm the ones he loves. A battle to the death.
MY THOUGHTS: ★★★★★
After reading a lot of fantasy and YA novels, I found myself looking for a change, and The Color of Evil fell right into my lap at precisely the right time. If you are a fan of the macabre and looking for a good thriller that will keep you awake at night, this is definitely the book for you. The characters were easily related to. The storyline flowed smoothly. While I could not relate to the area in which they lived, having money and all of that, I could relate to the trials and struggles and secrets that the characters faced and lived with.
The story sucks you in pretty much from the beginning, begging you to keep reading just to find out what is coming next. The excitement begins early on, and does not let up until the very end.
I thoroughly enjoyed reading this novel and would highly recommend it to those who enjoy thrillers and horror reads. I will warn, however, that there are some pretty adult scenarios that are not for the faint of heart and I do not recommend this for anyone under the age of 16.
The reason for the 3 star review was related to some grammatical issues and minor inconsistencies within the story, and after having had this information passed on to the author, I have heard rumor that there may be a revised copy coming sometime in the future.
On a personal note, I want to thank the author for a generous offer made in terms of giveaway, which will be posting in another thread directly following this one. Keep your eyes open, folks, as there is more to come from this author and I really think that she has the potential to hold ranks with the likes of Stephen King.
Codicil:
Visit Connie's website. Click the cover for more info and to ">purchase a copy. Thanks to Premier Virtual Author Tours for a review copy.
© 2012, lisapottgen. All rights reserved.
QR Code - Take this post Mobile!
Use this unique QR (Quick Response) code with your smart device. The code will save the url of this webpage to the device for mobile sharing and storage.